A six-wheeled robot which has sent signals to Earth from Mars since 2004 has been declared 'dead' by NASA after it stopped responding.
The Opportunity rover has been on the Red Planet for 15 years – after a planned 90-day mission, but was enveloped in a huge dust storm last year.
NASA hoped the robot would return to working order after the storm once sunlight could reach its solar panels, but it never responded, despite more than 1,000 attempts to contact it.
In a Tweet, the space agency said, 'Rest well, rover. Your mission is complete.
'To the robot who turned 90 days into 15 years of exploration. You were, and are, the Opportunity of a lifetime.'
After more than a thousand commands to restore contact, engineersat NASA's Jet Propulsion Laboratory (JPL) made their last attempt to revive Opportunity on Tuesday, to no avail.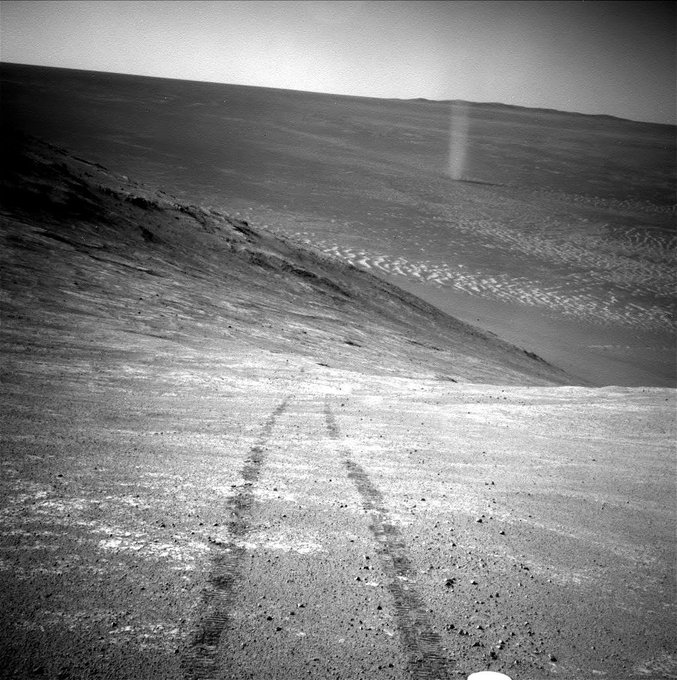 NASA Administrator Jim Bridenstine said, 'It is because of trailblazing missions such as Opportunity that there will come a day when our brave astronauts walk on the surface of Mars.
'And when that day arrives, some portion of that first footprint will be owned by the men and women of Opportunity, and a little rover that defied the odds and did so much in the name of exploration.'
Designed to last just 90 Martian days and travel 3,300 feet, Opportunity vastly surpassed all expectations in its endurance, scientific value and longevity.
In addition to exceeding its life expectancy by 60 times, the rover traveled more than 28 miles by the time it reached its most appropriate final resting spot on Mars – Perseverance Valley.