Unicef launches Generation Unlimited education for young people partnership:
October 3, 2018
Written by John Musinguzi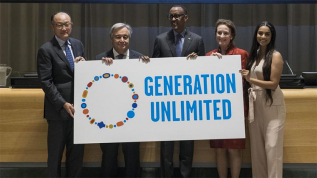 The United Nations Children's Fund (Unicef) on September 24 launched Generation Unlimited, a global educational and training partnership, at the United Nations headquarters in New York, USA.
This programme "dedicated to increasing opportunities and investments for children and young people aged 10 to 24," will see Unicef partnering various companions, in an effort to help young people transition from adolescence to maturity with ease.
With tagline 'Co-creating solutions with and for young people', Generation Unlimited is part of efforts to accelerate the implementation of the United Nation's 2030 Agenda for Sustainable Development. It aims to involve and respond to the specific needs of young people, as well as promote and support young people's role as critical agents of change.
A statement by Unicef's headquarter in New York dated September 21 and titled 'World leaders unite under new initiative to provide quality education and training for young people', said Generation Unlimited "will tackle the global education and training crisis currently holding back millions of young people and threatening progress and stability".
It promises getting "every young person into quality education, training or employment by 2030".
As part of the United Nations Secretary-General's Youth 2030 Strategy, Generation Unlimited will complement and build on existing programmes that support adolescents and young people. Its three key areas of emphasis will be: secondary-age education; skills for learning, employability and decent work; and empowerment.
Generation Unlimited's website, www.genunlimited.org/, states that the first round of multi-stakeholder co-creation, led by a wide range of external experts, has already yielded 20 initiatives that have the potential to deliver sustained results, and which are currently being considered for support by Generation Unlimited.
It also mentions a set of 'promising transformative ideas' that will harness the power of new trends like digitalization, globalization, technology and demographics.
These ideas will harness emerging industries in the green and care economies, as well as the growing body of data, knowledge and experience to address barriers that are obstructing progress for young people.
Many of these trends are at critical turning points that could help leapfrog solutions ahead of the curve and dramatically improve the effectiveness of scalable solutions.
LEADERSHIP
At the launch, Unicef executive director Henrietta Fore said: "The change in demographics the world is experiencing, coupled with fast-moving technological advances, presents a critical moment in history.
If we act wisely and urgently, we can create a skilled cohort of young people better prepared to create sustainable economies and peaceful and prosperous societies. Young people may represent 25 per cent of the global population, but they account for 100 per cent of the future. We cannot afford to fail them."
Generation Unlimited boasts a wide range of partners – governments, the private sector, academia, international and civil society organizations, as well as young people themselves – to co-create, fund and scale up innovative solutions to expand opportunities for the world's young people.
Besides a large board, Generation Unlimited also boasts a nine-member leaders group and a four-member champions group. The first meeting of the global board for the partnership was held in July last year.