The Ministry of health is in the process of formulating a policy targeting absenteeism and late coming among health workers in government health facilities, Dr. Ruhukana Ruganda, the Prime Minister has said.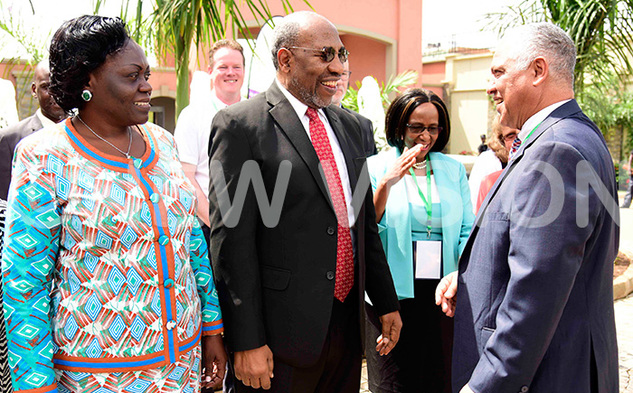 He said that the policy will also look at how medical workers can be motivated to be more attentive on their work.
Speaking at the opening of a two day health sector leadership summit at Mestil hotel, on Wednesday, Rugunda said that ministry is currently grappling with issues of neglect of duty, absenteeism, theft and stock outs of medicines, poor governance, corruption, poor service delivery and shoddy work in the health infrastructure.
He explained that medics' absenteeism stems from late coming on duty and early departure from duty, negligence of duty, dual employment, inappropriate facility duty rosters and off duty guidelines and, study leave without authorization.
"How can we curb organised absenteeism of health workers and negligence of duty? Absenteeism cheats government of up to 40% of their time of employment. This malpractice affects the quality of patient care and destroys team work," he said.
Rugunda asked the 40 different health focused organisations attending the summit to come up with practical solutions that the ministry will adopt as a motivational tool for its workforce.
"Government will now await your ideas and recommendations, which we will include in the Ministry of Health Policy Paper. I am convinced that with all these brains and Human Resources you will generate a smart approach to improving Leadership among our Health Workers," he said.
Project on health service quality lauded
Rugunda also lauded the Caring Together program that Baylor-Uganda is implemented in Eastern and Rwenzori region of the country to help improve the quality of the sector's leadership.
He noted that ever since the implementation of the program in 2015, there has been a 27% reduction in late arrivals, leading to a 42% reduction in client waiting time, a 13% increase in patients' perceived quality of care at the facilities and a 15% increase in women's perceived quality of care during antenatal care and delivery.
"These results clearly demonstrate a great impact that simple training in key leadership competencies can have on healthcare service delivery," he stated.
The summit is being held under the theme 'sharing strategies for health.'
Dr. Adeodata Kekitiinwa, the Executive Director of Baylor-Uganda stated that they started the programme after noticing that there was a leadership gap in the sector yet a lot was being invested in training technical skills.
She said that they also noted that there was a big challenge of medics refusing to own up to their mistakes and taking care of what they have been given to do.
"What we did was coming up with a training program that was specific on key leadership tenets like motivating people, keeping time, listening to people, holding monthly meetings and following up patients who are lost. These simple things have made a big difference," she said.
She noted when they instituted the electronic clock in system, medical workers started arriving early for work.
She said early arrivals increased by 57% in the number of facilities while patient waiting time reduced by 42% and their satisfaction with the services improved from 30% to 60%.
The program was implemented in 270 facilities across Eastern and Rwenzori regions from 2015 to 2018. It was implemented by Baylor in Partnership with Pepal, Janssen Pharmaceutica NV, Ralph and Ahrabella Lewis, the Cross Sector Leadership Exchange and funded by Comic Relief.
Kekitiinwa said that they are planning to roll out the program to the other regions of the country and will tomorrow (Thursday) launch their leadership academy to train health officials.
Sarah Opendi, the state minister for health, said revealed that though they have been providing health care for Ugandans, they have never paid attention to quality healthcare, noting that the program couldn't have come at a better time.
"Baylor has greatly improved the quality of care in our health systems. In places they have been, there is a huge difference in the quality of healthcare," she said.
She noted that they are now remaining with the challenge of motivating their human resource.
Dr. Alex Coutinho, the Executive Director of Partners in Health in Rwanda, advised government to adopt a principle of praise in public punish in private (PPP) to motivate its health sector workforce.
He said it is demeaning to punish a staff in public and likely to lower their motivation.
He said that government also needs to adopt a sector wide approach whereby other sectors are also brought on board since they all have a bearing on one's health.