OKWEFUGA KWA UGANDA KUFUNIRA WA?
UGANDA | INDEPENDENCE | IRAN
While basing from the headquarters, Muhammad Reza Ghezel Sofla, the Cultural Consulate of the Embassy of the Islamic Republic of Iran has wished Uganda a joyous 59th Independence Day and prosperous years ahead:
By World Media
9th October, 2021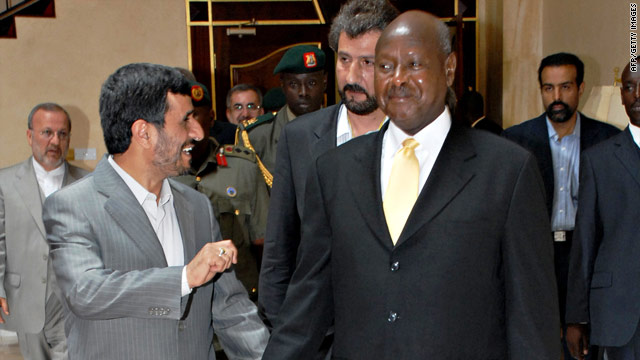 Iranian President Mahmoud Ahmadinejad (left) walks with Ugandan counterpart Yoweri Museveni during his visit on 25 April, 2010.
"On behalf of the Cultural Consulate of the Embassy of the Islamic Republic of Iran in Uganda, I congratulate the country on the 59th independence anniversary," Ghezel Sofla said.
He called upon all Ugandans to materialise the goals of independence through patriotism, self-sacrifice, innovations, Unity, and development.
"Uganda is endowed by almighty God and it should be the goal of every Ugandan to devote himself or herself to the beloved Nation, Uganda for internal development," he said.
Sofla said loving one's country is part of faith and it should be encouraged all the time since development starts from the inside.
Besides that, he was also confident that the unity and togetherness Iran and Uganda have built will bring a brighter future and an even stronger partnership between the two nations.
Whereas there are exciting times ahead of Uganda, Sofla noted that patriotic and charismatic leaders have a role to play in building that future and in transforming every person's aspirations into a reality.
Presidents Museveni woos Iranian Investors, says country open for technology transfer, modern agro production:
President Museveni meeting investors from Zanjan provice in Iran
President Yoweri Museveni has said Uganda's soils are rich for agricultural production but has a gap in agro processing, adding that the country needs investors with the technology and savings to build factories and also the entrepreneurship to run them.
The President was meeting local Iranian investors mainly businessmen from Zanjan Province in Iran led by the governor of Zanjan Province Mohammad Raoofinejad and his deputy Saeed Abbasi at his residence at the Persian Evin Hotel in Tehran.
The group included businessmen interested in investing in projects turning sugarcane waste into ingredients for making tyres and brakes led by the Vice chairman Iran- Africa Economic Cooperation Council Dr. Parvis Karbasi and the President of the Group of Donya Macnoon, Morteza Ruzitalab.
"Uganda is very rich in agriculture production and crops grow easily even without using fertilizer. When we use chemical fertilizer the yields would be much higher. We are working to build a fertilizer factory in Tororo and with our oil we can produce nitrogen from gas. The moment we add fertilizer and also use irrigation, production will be very high,@ he said.
He hailed the business men who are already in the process of building a modern abattoir in Masaka for being enterprising, adding that the quality of Ugandan meat, especially from the long horned cattle in the region is of high quality especially given its yellow fat with is low in cholesterol.
"That meat is a gold mine. If we get a market and process it, it tastes better than meat elsewhere," he said.
The President said other areas that need agro processing include maize milling and processing for flour and animals feed, saying the country currently exports maize as grain to countries in the region especially Kenya and South Sudan at a loss.
The President welcomed other proposed projects including new technology in affordable housing units, a free trade zone to boost trade in the region and turning sugar cane waste into butanol, a four-carbon alcohol that's used in paints, adhesives, inks and other solvents. N-butanol is traditionally made from propylene, a petroleum product, and may be converted into other chemicals that are used to manufacture products such as tires, plastics and jet fuel.
The meeting was attended by the Uganda Ambassador M. Kisuule, Members of Parliament from Uganda.
"Now I'm going to engage the United States to hear their version, then come back to and consult with our African brothers whom I represent on the U.N. Security Council," Museveni said.
Uganda is a non-permanent member of the U.N. Security Council.
The country's foreign minister, Sam Kutesa, Sunday denied that Iran had tried to use an oil deal to win Uganda's backing on the Security Council.
"No!" he said, adding, "They have no leverage." Kutesa pointed out that many other countries around the world had companies that could built a refinery in Uganda.
"We are not the agents of Iran or anybody else... Nobody can blackmail us about that oil -- including the Iranians," he said.
Museveni said the day before that Uganda will be not be doing the bidding of the United States, either.
"We are not agents of the West on the U.N. Security Council -- we are representatives of Africa and we follow what Africa decides," he said.
The British-Irish firms Tullow Oil and Heritage Oil have already signed contracts with Uganda to develop its oil reserves, the non-profit group Platform said in a highly critical report in February.
The contracts "place profits before people," in the words of the report's title. Platform called for more environmental protections, greater accountability for military forces protecting oil installations, and more equitable distribution of revenues.
"We are not agents of the West on the U.N. Security Council.
--Sam Kutesa, Ugandan Foreign Minister
Ahmadinejad, who arrived in Uganda on Friday to seek support for his country's controversial nuclear program, said he discussed the sanctions, which he described as a "joke."
"We want Uganda to understand that our nuclear program is for peaceful purposes, but Iran is being denied the right to develop it on baseless suspicions by the West," Ahmadinejad said.
Earlier, during a state dinner, Ahmadinejad accused the West of trying to deny countries the right to nuclear energy.
Museveni, on the other hand, called for a "nuclear weapons-free world," defending nations' rights to have access to nuclear technology, but only for "peaceful purposes" such as medical uses.
"Nuclear weapons are dangerous for humanity -- even more dangerous than all the other previous weapon systems," Museveni said. "We should, therefore, work for a nuclear weapons-free world. This means that those who have these weapons should work to get rid of them under an internationally agreed and verifiable treaty."
Uganda was one of two African nations Ahmadinejad visited this week. He also made a two-day trip to Zimbabwe, where he launched a tractor production line and attended a trade fair.
Zimbabwe President Robert Mugabe said he and Ahmadinejad have the "same policy and same stance -- anti-imperialist, anti-colonialist and a stance to protect our sovereignty and our right of ownership of our resources."
CNN's Ben Brumfield and David McKenzie contributed to this report.