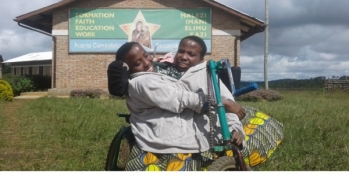 Iringa, Tanzania | AFP | A pair of conjoined sisters are settling into campus life at a Tanzanian university, a first in a country where disabled people are often marginalised or abandoned at birth.
Maria and Consolata Mwakikuti, 20, who are joined at the abdomen, have become minor celebrities in the east African nation where the media have closely followed their path through high school and arrival at university earlier this month.
Mwazarau Mathola, spokeswoman for the Ruaha Catholic University in Iringa in the centre of the country, said on Thursday the women arrived a few weeks before classes start in October to get used to their new life and take computer lessons.
"A separate house has been provided for them, furnished and set up for their needs, because they can't be housed in normal student accommodation," said Mathola.
A couch has been installed in their classroom to allow them to sit comfortably, and they have a carer.
The twins were abandoned by their mother after the death of their father, and later taken in by a Catholic mission. They will study education, with the hope of becoming teachers of history, English and Swahili, said Mathola.
In July, Maria made an emotional call on state television for parents not to "hide or lock up their handicapped children".
"They must know they human beings, handicapped or not, are equal and have the same rights," she said.
The sisters, who enjoy knitting and cooking together, thanked the teachers who helped them through highschool, as well as the government who provided a vehicle to take them from their home to school each day.
"We didn't expect this day to come, it is by the grace of God that we are here today," said Consolata, the chattier of the two.
The sisters admit that they do not always get along, as Consolata told a local newspaper in 2015: "For example when I want to do laundry and Maria prefers to read. However we always find a way around it."