In Uganda the citizens are not happy how senior citizens (pensioners) are treated when they visit the Public Service Administration:
Written by a citizen of Uganda

Posted Thursday, October 29 2015
During the ongoing exercise of updating the pensioners' registry, I had the responsibility of going to the Ministry of Public Service to update my father's records as he had not received his pension from July 2015. What I experienced can only move one to tears.
The reception area where visitors are received has very courteous and warm personnel. But doom awaits you when you get to the pension section.
There is no clear guidance on which office you have to go to so one is tossed from one office to another.
The officers in the pension offices are ill-mannered, impolite and are not courteous when responding to visitors' queries.
Having spent more than two hours for a process that takes under 10 minutes, my heart went out to the elderly men and women who diligently served this country with whom I moved from one office to another so as to get served and have the pensioners names re-instated, but in most of the offices, a cold reception awaited us.
There was one particular office that is a disgrace to that department. In that office, pensioners were shouted at and treated like garbage. It deeply pained and moved my heart to see the elderly being treated in such a manner.
It makes me wonder whether the ministry takes time to adequately train its staff (especially those that have to relate with external partners) and have thorough checks on the quality of work of their employees if the poor treatment has always persisted and has become a cancer.
I would like to request the Ministry officials that this matter be addressed so that some dignity can be given to the pensioners as they get what is due to them.
Name-withheld
Elderly people cry out to govt for social protection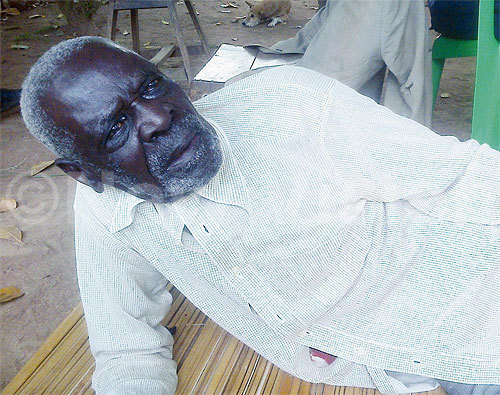 Mr Ochow the known oldest Ugandan citizen in the country
By STEPHEN WANDERA
Posted by The Monitor newspaper in Kampala: Thursday, September 25 2014
IN SUMMARY
The elderly claim they are marginalised by policy makers.
Speaking at a workshop organised by Equal Opportunities Commission on Friday, the elders drafted a petition to be presented to government to address their plight.
"Elderly persons face different forms of exclusion from mainstream development. Policy makers and implementers tend to write-off older persons by labelling them as 'spent force'. This attitude known as 'ageism' has led to denial of older persons to enjoy their rights," Mr Herbert Baryayebwa, a consultant at International Network for Sustainable Human Development, said. There are about two million people above 60 years in Uganda.
Ms Erina Baingana, a Commission member, said old people do not have enough information on HIV/Aids, making them more vulnerable.
"The major concern for elderly persons is ill health, it is a big challenge, unlike like younger groups that think of employment," Ms Baingana said.
In 2011, government launched the Social Assistance Grants for Empowerment Programme to expand social protection to vulnerable persons.
It currently supports 104,000 older persons above 65 years in 14 pilot districts.
However, the elderly want the programme extended to more districts and their funds be released on a timely basis.